The Impact of Direct Mail at an Affordable Rate
* Reach thousands of homes within a few miles of your business
* Benefit from the visibility of an oversized 6" x 11" postcard
* Reduce expenses through co-operative advertising
* Avoid having your message get lost or buried
* Extend your reach with our affordable rates
* Gain synergy by advertising with other top businesses
* Maximize offers/promotions and seasonal opportunities with mailings that arrive in homes the first week of each month
Campaign Options
Campaigns have been designed to maximize your marketing dollars by increasing your visibility, creating an attractive and appealing advertisement, and reaching enough people in close proximity to grow your business.
Quarterly Campaign - 7,500 homes/2500 per month for $449
Quarterly Campaigns require a 3 month commitment.
Monthly Campaign 1 - 2,500 homes for $599
Options are available for larger campaigns as well as different sized groups.
Synergy Opportunities
Increase the power of your marketing by finding partners with synergy. Some common samples would include:
* By Location – within the same shopping center
* By Industry – home improvement/medical/pet/auto/etc.
* By target profile – high income families with children
Integrated Marketing Campaigns
* Increase the frequency of your direct mail increases response
* Tie your promotions to your web site and social media
* Run contests, sweepstakes and events to attract new customers
Options/Solutions
Custom solutions are readily available. If you have a group that would like to market to a specific audience, have a specific number of businesses involved, and/or have a specific budget to work towards, we can put a customized marketing package together for you!
If you're interested in learning more about Lendan Direct Mail or other marketing services, please don't hesitate to give us a call at 817 797-3434 or use the Contact Us form on this web site.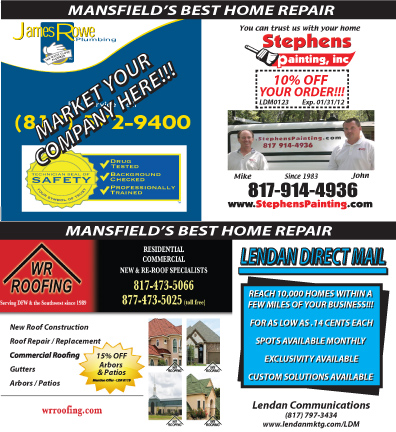 Lendan Direct Mail
---